Nelson Well Service, LLC.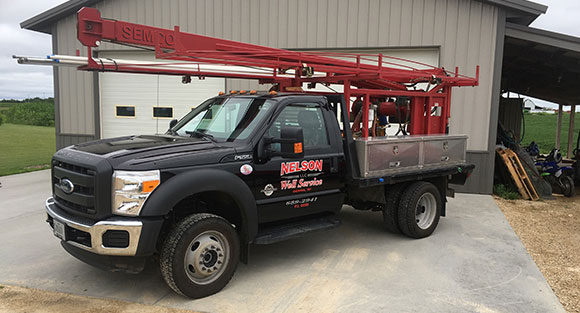 For more than 80 years, Nelson Well Service has offered comprehensive repair, replacement, removal services for both residential and agricultural well systems in Vernon County, Wisconsin. We also provide water sampling for annual maintenance or property transfers to ensure your water is clean and safe.
Water Well Service in Vernon County, WI
Your well is one of the most important features of your property, whether you use it for agricultural or residential watering, so it's important to make sure it's properly repaired, and maintained. That's why Nelson Well Service offers comprehensive service on all water wells in Vernon County, WI. As a longstanding, family-owned business dedicated to providing quality services to our community, we have over 80 years of experience in all types of well maintenance and repair.
We provide regular maintenance to ensure any worn parts are replaced and any potential leaks are addressed before they cause problems with your system. And if it's too late for preventative maintenance, we take care of all your repair and replacement needs with our extensive inventory of top quality well pumps, pipes and pressure tanks, all from brands we trust for their durability and reliability. If we don't have a part you need, we'll track it down for you as quickly as possible. We also offer expert water sampling to test your water for bacteria, nitrates, and arsenic, ensuring that your drinking water is healthy and safe. When it comes to well water problems, Vernon County, WI, residents and farmers turn to us because:
We are a proud member of the National Ground Water Association.
We offer after-hours service by appointment.
We provide emergency service.
We offer free estimates for your convenience.
We serve within a 40-mile radius of Genoa, WI.
Providing Water Well Service and Well Installation to Genoa, WI and the surrounding areas including:
Hillsboro, WI
Viroqua, WI
Westby, WI
Romance, WI
Newton, WI
Victory, WI
Red Mound, WI
Retreat, WI
West Prairie, WI
De Soto, WI
LaFarge, WI
Coon Valley, WI
Stoddard, WI
Viola, WI
Readstown, WI
Soldiers Grove, WI
Gays Mills, WI
Seneca, WI
Ferryville, WI
Crawford County, WI
Vernon County, WI